BeyondTrust Remote Support (Bomgar)
Enable secure, real-time remote support sessions for your employees with this mApp.
Overview
The BeyondTrust Integration mergeable application (mApp) provides functionality that enables secure, real-time remote support sessions. Using the mApp, CSM technicians and Customers can launch remote support sessions directly from CSM to encourage real-time collaboration and fast resolution of IT issues. Session details (ex: Chat conversation history) can then be stored in an applicable Business Object.
CSM integrates with BeyondTrust's remote support services using the BeyondTrust Application Programming Interface (API). BeyondTrust remote support service commands are configured in CSM so technicians can launch remote support sessions directly from any CSM Business Object. With a single click, technicians and Customers can initiate these sessions through the CSM Desktop Client or Portal Client. At the end of a session, CSM Business Objects (ex: Incidents and Change Requests) are created or updated to store the session's details in the Business Object's Journal.
The CSM remote support integration allows Customers to request immediate assistance with IT issues and to communicate real-time with technicians through a chat window in the Portal. Technicians provide remote support to Customers through the BeyondTrust Representative Console. The Console is the interface that BeyondTrust provides for technicians to chat with Customers, remotely control their computers, share files, etc., to resolve the Customer's issues.
Video Demo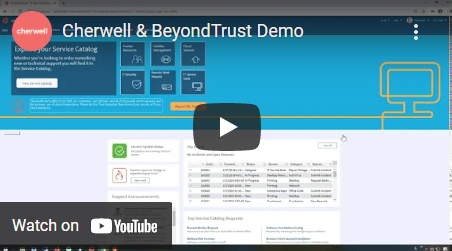 Support
System Requirements
Platform Version Requirements: Tested on 9.6.x - 10.2.0
Content Version Requirements: Tested on 9.6.x - 10.0.0. This mApp may or may not be compatible on Content versions older than 9.6.x, but as with all mApp Solutions, it should be tested on your customized system.
Prerequisites: BeyondTrust/Bomgar URL, BeyondTrust/Bomgar Account Username, BeyondTrust/Bomgar Account Password, BeyondTrust/Bomgar API Client ID, BeyondTrust/Bomgar API Client Secret, Target path to BeyondTrust/Bomgar exe, Incident Business Object ID, and Journal – Remote Session History Business Object ID
Details
Category: IT Service Management
Price: Free
Publisher: Cherwell
Updated: 01/03/2021
Version: 3.1
Documentation: View Product Documentation
Note: BeyondTrust v18.2.3; may be compatible with earlier versions, but functionality is not guaranteed.