Microsoft Teams Integration mApp
Microsoft Teams Integration mApp® that enables strong collaboration between CSM and Microsoft Teams
Overview
Cherwell offers a free Microsoft Teams Integration mApp® that enables strong collaboration between CSM and Microsoft Teams.
You can use the Microsoft Teams integration to:
Create a new private team channel.
Invite other CSM users/customers to the channel.
Send messages to the team channel from the Incident object.
Refresh the message list to view the most recent messages.
Chat history will be recorded in a Journal and Ticket resolution.
Video Demo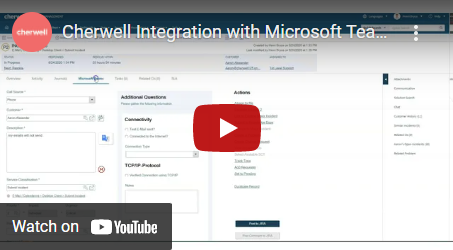 Support
This is a Cerwell Labs mApp Solution intended to showcase experimental or beta-level content features in Cherwell Service Management. Functionality, testing, and documentation are limited or incomplete. Cherwell support is not provided for this mApp Solution, so install it at your own risk on a test environment before installing it on a production system.
System Requirements
Platform Version Requirements: Tested on 10.0.0
Content Version Requirements: Tested on 10.0.0
Prerequisites: Microsoft Teams
Details
Category: Other
Price: Free
Publisher: Cherwell Labs
Version: 1.01