StrataCom Mobile Solution for Cherwell
StrataCom's simple, configurable, mobile first solution functions across all Cherwell Objects
Overview
StrataCom is proud to offer a mobile-first solution for Cherwell Software. Our simple, consistent, super-fast interface across all Cherwell modules will free your employees from their desks allowing them to work their tickets quickly and efficiently.
Our SAAS solution plugs directly into your Cherwell instance and doesn't require any modifications, mApps, or tailoring to your Cherwell solution. It works with Cherwell Hosted implementations as well as On-Premise implementations.
StrataCom's exclusive GUI-driven Mobile Solution Designer allows you to mobilize ANY OBJECT in Cherwell, including your CUSTOM OBJECTS.
Users log in with their existing Cherwell credentials and are presented with a fast, easy to use mobile solution designed to work seamlessly with Cherwell.
Here are some of the things your users can do with the StrataCom's Mobile Client for Cherwell:
No App store client needed! Users can install the Mobile Client as an app on their home screen or simply access it from the browser
Email links can take users right to the Cherwell ticket they need to work or approve
Perform any action on any ticket! Add journal entries, close tickets, create new tickets….they can do it all including running all of your ONE-STEPS
Take photos with your phone and upload them to tickets
Use our industry-grade bar-code scanner to look up CIs or create them on the fly, right from your phone
Receive 'Push Notifications' from Cherwell on phones which bring users directly into a ticket
Approve tickets and leave approval or denial comments
Work tickets assigned to yourself or your team
Reassign tickets to other groups or users
Run One-Steps, including One-Steps that include Prompts
NEWEST FEATURES
Use the Mobile Client OFFLINE with our "Seamless Offline Experience". Records are cached and worked the same whether or not you have Internet access
Navigate records from the Record Detail form by tapping arrows to move forwards and backwards through your record lists
Action buttons are now hidden and can be popped out on demand, freeing up screen real estate to be able to view more ticket information
You can now view and add related records via the mobile client
Deliver Portal functionality to your Customers who aren't Cherwell Users
Screenshots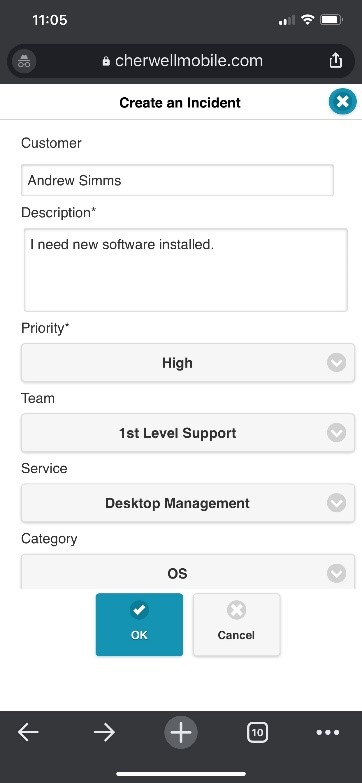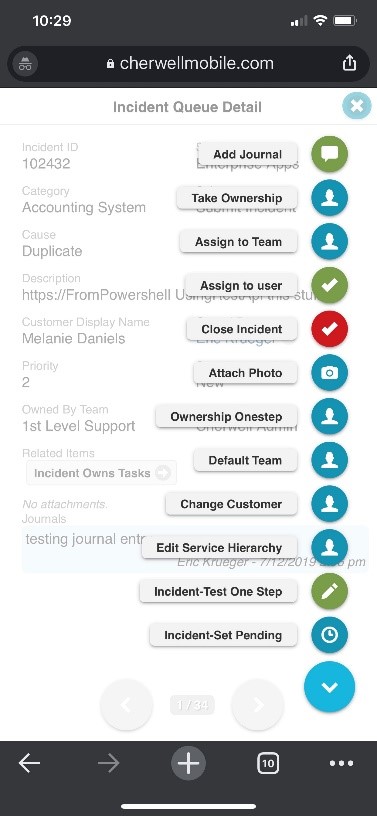 Support
Phone Number: 701-232-5697
Email: sjones@stratacominc.com
System Requirements
Platform Version Requirements: 8.0
Content Version Requirements: 8.0
Prerequisites: Mobile client functions on IOS, Android or desktop web browser
Details
Category: Other
Price: Paid
Publisher: StrataCom, Inc.
Version: 2.21.12
Documentation: Download Documentation Here