Rapidly pinpoint threats and automate response
Overview
BeyondTrust is the worldwide leader in Privileged Access Management, offering the most seamless approach to preventing privilege-related breaches. Our extensible platform empowers organizations to easily scale privilege security as threats evolve across endpoint, server, cloud, DevOps, and network device environments. They are trusted by 20,000 customers.
How We Integrate With Cherwell
Streamline support and improve performance with BeyondTrust Remote Support. The integration includes secure remote support and chat support capabilities that you can offer live from any Cherwell Service Management (CSM) module. End users can initiate remote support via the Cherwell Self-Service platform.
Video Demo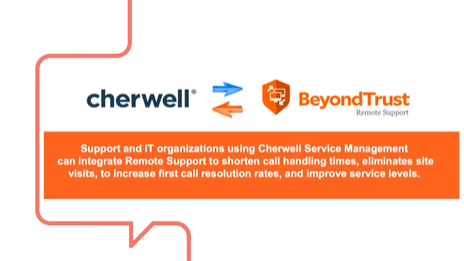 Additional Information
Download: BeyondTrust Remote Support Data Sheet
Partner Type: Technology
Geography: APAC, Brazil, EMEA, LATAM, North America, Oceania
Solutions