Overview
GAVS Technologies (GAVS) is a global IT services & solutions provider enabling digital transformation through automation-led IT infrastructure solutions.
How We Integrate With Cherwell
Their integration with Cherwell is with their Zero Incident Framework™ (ZIF) solution. Zero Incident Framework™ is an AIOps based TechOps platform that enables proactive detection and remediation of incidents. Three key outcomes of ZIF are:
Higher Business Service Availability:ZIF increases business service availability and application performance through proactive remediation of incidents and predictive risk management.
Faster MTTR: Through AI driven algorithms for pattern recognition, anomaly detection and event correlation, the root cause analysis is automated, resulting in a 60% faster MTTR.
Proactive IT Operations: With predictive analytics, ZIF provides insights on potential incidents with greater than 90% accuracy and prevents them from reoccurring through intelligent automation.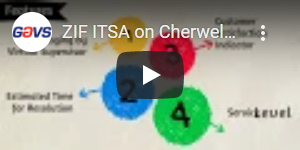 Additional Information
Partner Type: Technology
Geography: APAC, Brazil, EMEA, LATAM, North America, Oceania
Solutions